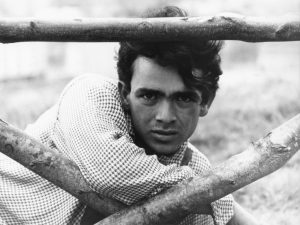 The Shanghai Art Film Federation is staging an Italian Film Masters Retrospective to commemorate the 50th anniversary of Sino-Italian ties. A total of nine films from four celebrated Italian filmmakers are showing at the Shanghai Film Art Center and Shanghai Art Theater through November 1.
The four filmmakers — Federico Fellini, Pier Paolo Pasolini, Bernardo Bertolucci and Vittorio De Sica — used different shooting styles but have greatly influenced younger generations of film directors. The nine films are some of the most famous, critically acclaimed Italian movies of all time, adapted to the 21st century with 4K technology.
Fellini's three films include his directorial debut The White Sheik (1952), as well as The Road (1954) and Nights of Cabiria (1957). The White Sheik is a romantic comedy about a missing bride on her honeymoon. The Road and Nights of Cabiria are part of Fellini's "Trilogy of Loneliness," both of which won Oscars for Best Foreign Language Film. Inspired by a photo of his wife Giulietta Masina, "The Road" is a touching ode to life and love that tells a tragic story about a female street performer. Based on a true story, Masina's portrayal of a fragile woman in search of true love in Nights of Cabiria was awarded Best Actress at the 10th Cannes Film Festival.
Pasolini's landmark films Accattone (1961) and The Gospel According to St. Matthew (1964) are featured. Accattone, which documents the lives of impoverished Italians on the bottom rung of society, was Pasolini's directorial debut. The cast consists of amateur actors. The Gospel According to St. Matthew is a biblical drama shot in Italian neorealism style about the life of Jesus Christ.
Bertolucci's contributions to the retrospective are The Grim Reaper (1962) and The Spider's Stratagem (1970). The Grim Reaper was Bertolucci's directorial debut at the age of 21. Adapted from a short novel, the film is a murder mystery about the death of a prostitute that offers insights into ordinary Italian's lives after World War II. The Spider's Stratagem examines a man's return to his hometown to investigate the mysterious death of his father, an anti-fascist hero.
The retrospective also features two Vittorio De Sica masterpieces — "The Bicycle Thief" (1948) and "Miracle in Milan" (1951). "The Bicycle Thief," a neorealistic depiction of a man who risks losing his livelihood if he doesn't find his stolen bicycle only to find the true meaning of life in the process, garnered dozens of international film awards. "Miracle in Milan," a neorealist fantasy fable, follows the many miracles in the life of an orphan.
Tickets for the retrospective are available on mobile apps Taopiaopiao and Maoyan Movie. Following the exhibition in Shanghai, it will move onto Hangzhou, Zhejiang Province. The Shanghai Art Film Federation is devoted to presenting acclaimed art-house movies to the public. In addition to the Italian film festival, it has presented a retrospective of Russian film masters and Chinese director Sun Yu, as well as a film exhibition of China's efforts to build a prosperous society in 2020.
The Art Film Federation also provides opportunities for Chinese filmmakers to showcase their work. City Dream is a documentary by Chen Weijun with English subtitles. In the documentary, Chen focuses his lens on migrants' rights and their fight for better economic opportunities in Wuhan, Hubei Province. The 51-year-old director's credits also include This Is Life — a 13-episode documentary series about women giving birth in a maternity ward at Wuhan University's Zhongnan Hospital. Released in 2017, the series captures the moments of joy while welcoming a new life, and explores the complexities and challenges of families, both from rural and urban areas.
Dates: Through October 25
Tickets: 70 yuan
Telephone: 6280-2743
Venue: Shanghai Film Art Center
Address: 160 Xinhua Road
Dates: Through November 1
Tickets: 70 yuan
Telephone: 6256-8282
Venue: Shanghai Art Theater
Address: 466 Jiangning Road