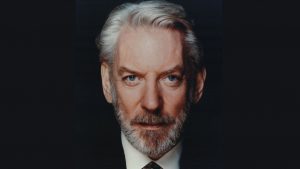 Donald Sutherland will receive the prestigious Donostia Award at the San Sebastian film festival on September 26.
The award is recognition of "more than 59 years of excellent performances", a film festival statement said.
Sutherland, now 84 and known for films including Robert Altman's M*A*S*H, Bernardo Bertolucci's 1900 and Federico Fellini's Casanova, was presented with an Honorary Academy Award for his acting career in 2017.
The veteran actor will receive the San Sebastian award before the screening of The Burn Orange Heresy, his latest film directed by Giusepe Capotondi and which also stars Mick Jagger.