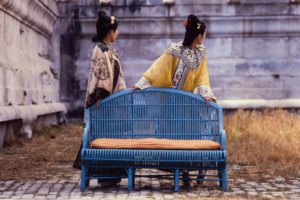 Basil Pao, The Last Emperor Blue Bench
The Beijing art institution M WOODS present the largest and most comprehensive survey exhibition to date devoted to Japanese composer and artist Ryuichi Sakamoto. The exhibition is Sakamoto's first institutional solo show in China, and centres around eight key large-scale works and sound installations that redefine how we experience an album of music or an art exhibition, while proposing different ways of understanding the world through sound and technology.
At the centre of the exhibition is the complex audio-visual installation LIFE – fluid, invisible, inaudible… (2007/2021), also made with Shiro Takatani, highlighting an important point of departure for the artist into the expanded territory of experiential sound spaces. The work contains two important sub-currents: the breaking of the unilateral experience of opera, here achieved through the recreating and deconstructing of Sakamoto's 1999 opera LIFE. And secondly, the integration of technology, image, and nature to achieve what Sakamoto calls the 'the interstices of sound and image', here configured by the experience of walking through a Japanese garden. Originally commissioned in 2007 by Yamaguchi Center for Arts and Media (YCAM), with nine custom made 'water tanks', here at M WOODS, the work will be shown through an expanded version consisting of twelve water tanks. These tanks are suspended in the air like image clouds. Each one produces an intricate mix of sound, artificial fog, and video clips – organized by a taxonomical system – that are projected onto the floor with images from Sakamoto's original opera.
The exhibition also includes two outdoor site-specific installations that have been modified especially for M WOODS, located on our museum rooftop and ninth-floor rooftop. One of which is Sensing Streams(2014/2021), originally made in 2014 with Daito Manabe, this new version has been converted from its original format and integrated into the existing architecture of the rooftop. Also present will be two temple galleries that highlight Sakamoto's cinematic scores, including The Last Emperor(1987), accompanied by a special set of photographic images by artist Basil Pao taken during the making of the film, and Merry Christmas Mr. Lawrence (1983). Accompanied by an exhibition catalogue and a series of live events and programming, the exhibition 'seeing sound / hearing time' will provide a critical overview of Ryuichi Sakamoto's artistic practice.