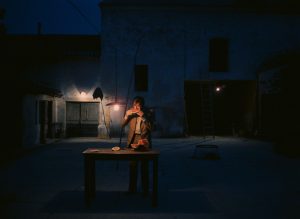 The Spider's Stratagem will be one of the movies screened at the Film Preservation & Restoration Workshop India 2019 in Hyderabad, India. The workshop is organized by the Film Heritage Foundation, which was established in 2014 by film director and archivist Shivendra Singh Dungarpur to train young film restorers and preserve the Indian cinematographic heritage.
This will be the first Indian screening of Bertolucci's movie in the version restored by Fondazione Cineteca di Bologna and Massimo Sordella in collaboration with Compass Film and RAI Cinema. Strategia del ragno will be presented along with Meghe Dhaka Tara, the 1960 movie by Bengalese film director Ritwik Ghatak.
This fifth edition of the Film Preservation & Restoration Workshop will be held from the 8th to the 15th of December in Hyderabad's Annapurna Studios, organized by the Film Heritage Foundation and the International Federation of Film Archives (FIAF) in collaboration with Annapurna Studios, The Film Foundation's World Cinema Project, The Academy of Motion Picture, Arts & Sciences, Fondazione Cineteca di Bologna, L'Immagine Ritrovata, Bundesarchiv, Cinemateca Portuguesa, Institut National de L'Audiovisuel (INA), San Francisco Silent Film Festival, FIAT/IFTA, Haghefilm Digitaal, A.V. Preservation by Reto, Media Inventions s.c., The Criterion Collection, Annapurna College of Film & Media, Prasad Digital Film Lab and ARRI.