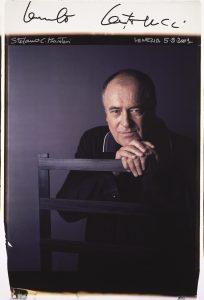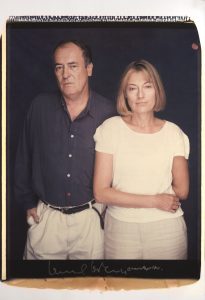 On the occasion of the 76th Venice International Film Festival, the Biennale di Venezia has organized the exhibit Ritratti (Opere uniche). 300 Polaroid raccontano i protagonisti della Biennale Cinema dal 1996 al 2004. 
The show – which will run to September 15th, in conjunction with the 76th Venice Film Festival ) – is curated by Alberto Barbera, the director of the Biennale's Film Sector, and is a collection of 300 gigantic Polaroids depicting the protagonists of the Venice Film Festivals which took place between 1996 and 2004, included Bernardo and Giuseppe Bertolucci, and Clare Peploe.
The exhibit has been organized in collaboration with the agency Photomovie,  which, from 1996 to 2004, officially documented the filmmakers and the stars at the Film Festival, using the Giant Camera which Polaroid produced in a very limited edition. This camera takes photographs which develop in 80 seconds, after which the negatives die, leaving only the "one-off" positives which cannot be reproduced; these Polaroids were on display at the Palazzo del Cinema during those years.
Various Italian portrait makers took their turn behind the camera during the nine years the Giant Polaroid was used in Venice: Fabrizio Marchesi, Stefano C. Montesi, Jacek P. Soltan, Fabio Lovino, Chico De Luigi, and Maurizio Galimberti have made this exhibit possible. The Giant Polaroids taken by Maurizio Galimberti are paired with some of the most beautiful "photographic mosaics" the artist made during the 2003 and 2004 Film Festivals.
Hotel des Bains
Lungomare G. Marconi 17, Lido di Venezia
26 August – 7 September, 10 am – 10 pm
8 – 15 September, 10 am – 6 pm
Free entrance